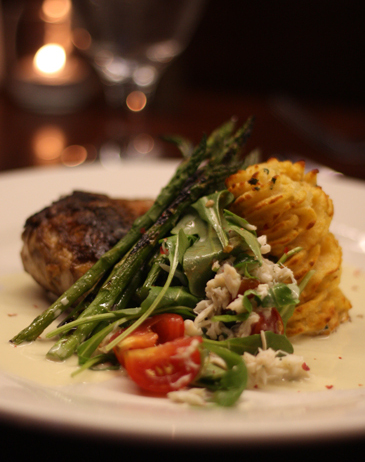 Welcome To The Tulip Bistro and Bar

At The Tulip Bistro and Bar, we feature our bar and Lighter Fare Menu Monday through Saturday, from 4 pm to 5 pm. After 5pm you can get any of your favorite dishes until 10 pm Monday through Thursday, or until 10:30 pm on Friday and Saturday. We are closed on Sunday
Reservations are not required, but recommended. The patio however, is first come first serve, and will not be available for call ahead seating.
Make a Reservation
Dinner
Awaken your taste buds with our exquisite entrees, featuring fresh, local ingredients.
Created with passion and purpose, these dishes are sure to satisfy any palate.
View Menu
If you like our food and atmosphere, but had something a little different in mind for tonight's outing.
Check out our other restaurants A.P. Suggins and The BLVD Grill.